Currency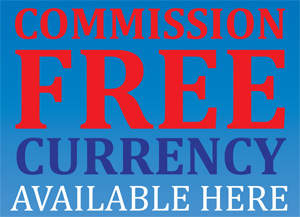 With 0% commission on over 75 different currencies PR World Travel takes the hassle out of exchanging money and allows you to collect your currency from our in store bureau. Please note the bureau is not open on a Sunday.
We offer great exchange rates on a number of foreign currencies. Whether you're looking to either Buy Euros, Turkish Lira, US Dollars,Swiss Francs,Egyptian Pounds,Canadian Dollars, UAE Dirhams, Czech Koruna, Australian Dollars or  Bulgarian Lev, just check out our rates and decide how much you are wanting and give our friendly team a call and we will be happy to give you the most upto date exchange rate and take your order over the phone.
We keep stock of major currencies such as Euro's and US Dollars and Turkish Lire during the summer months, if you are wanting a large amount ie: anything over £500 please let us know in advance so that we do not sell out and we can reserve it on your behalf.
We can generally get your currency the next day as long as our supplier has it in stock. If you are requiring a currency that we do not keep in stock then we will have to collect a 10% deposit upon ordering
Please note that we accept cash payments and also debit and credit cards but you will have to produce a valid picture drivers licence or passport if paying by card.
Our Bureau is open from 9am until 4:45pm Monday – Saturday.
Current Exchange Rates